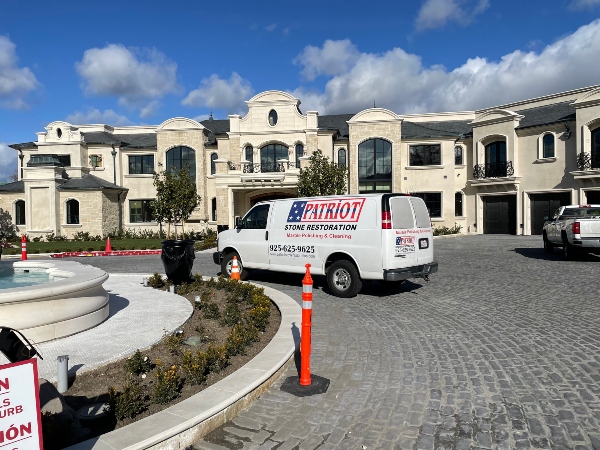 Arriving on the job...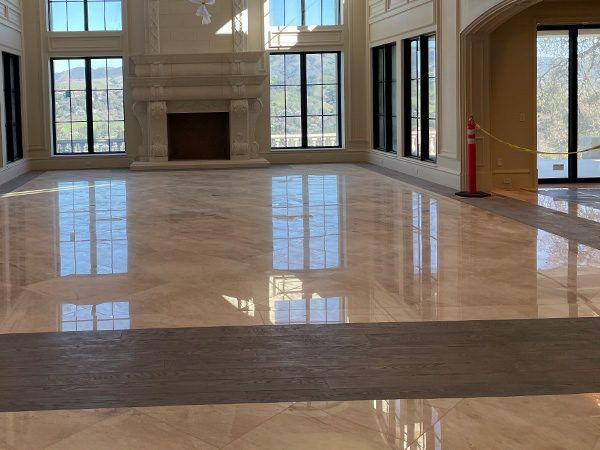 This image shows the damaged floor before restoration.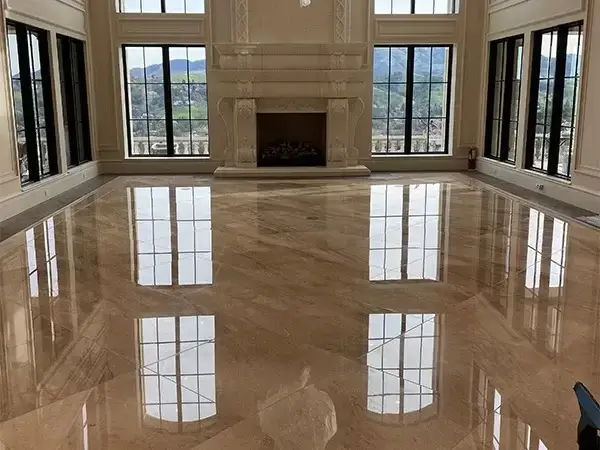 What a dramatic difference!
The Problem: Damaged Marble Floor Restored to Like New
This new construction home in Alamo, CA had a  marble floor installed before construction was complete. After installation, while construction was still going on, the floor took a beating and was scratched in numerous places, plus the finish of the marble was ruined. Patriot Stone Restoration was called in to fix and restore the floor. This floor was 780 sq ft and it took 4 technicians 3 days to complete the project.
First Things First…
We blocked off the floor from interference for the repair process were performing. It was necessary for a multi-day project while other contractors are working around us.
The Restoration Process
We first masked the perimeter of the floor to protect the surrounding walls.
We began by diamond honing in progressively finer grits to remove the scratches and damage and to prep the floor for the high shine polish. Once this was completed we polished the floor to a mirror like shine.
Final Cleanup and Sealing
After the high shine polish we did a tile & grout joint scrub and extraction rinse to remove excess polishing compound and soiling. We then dried the floor and did a sealer saturation, then buffed off all the sealer residue to complete clarity.
---
Do you have a marble floor that has become damaged and is in need of being restored to like new? CONTACT US online or give us at call at 925-625-9625