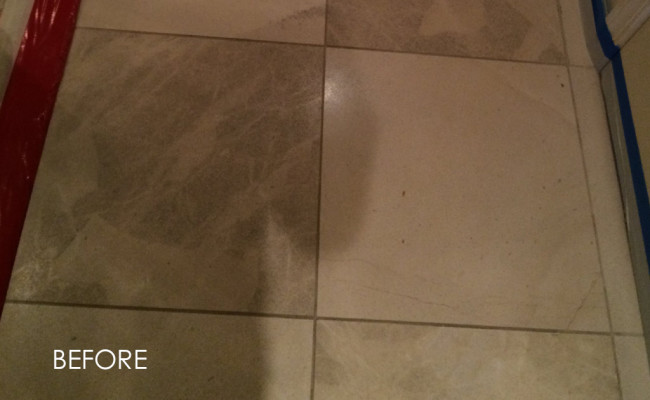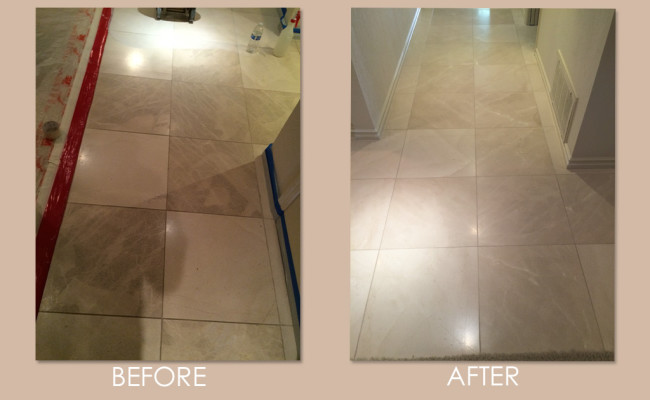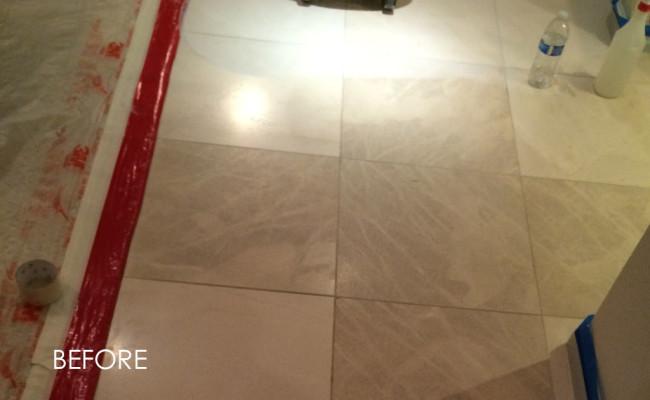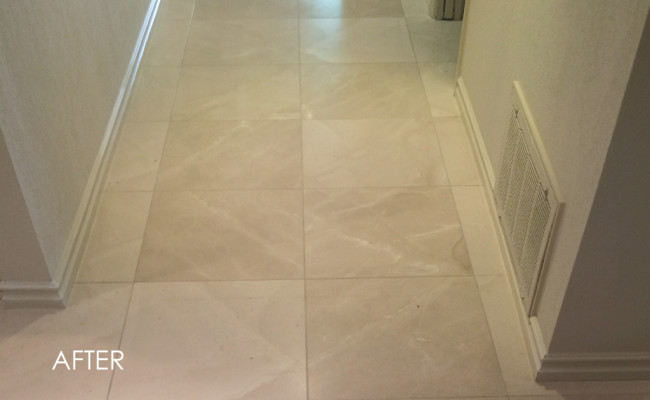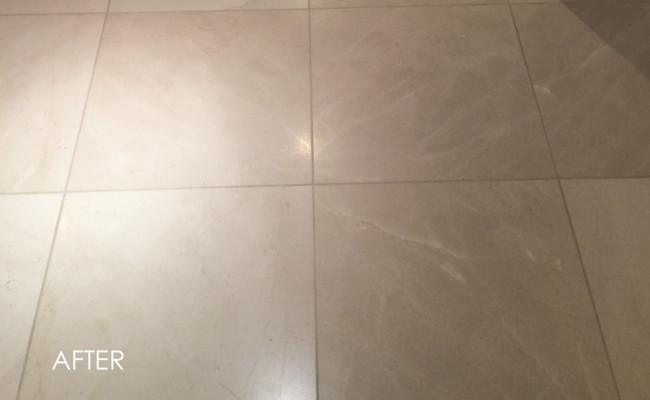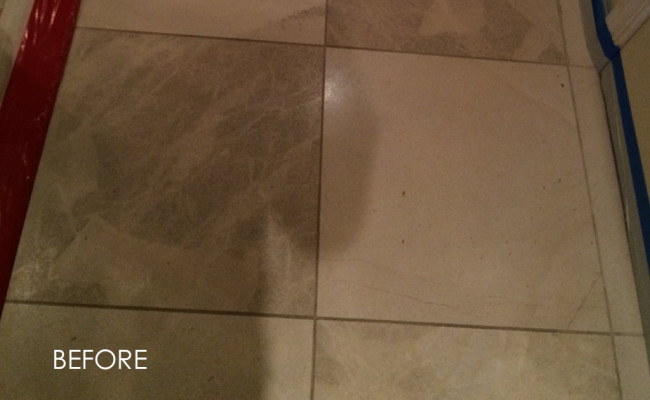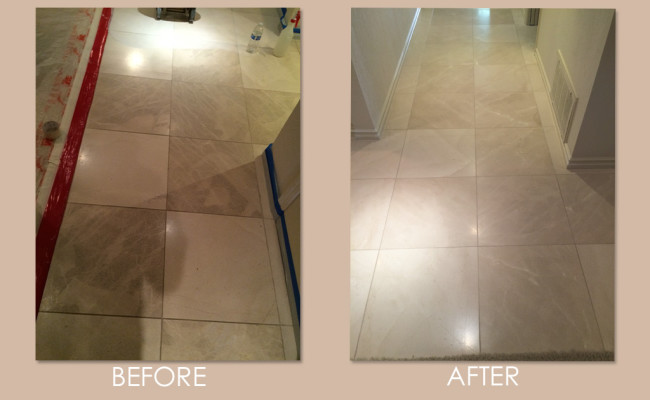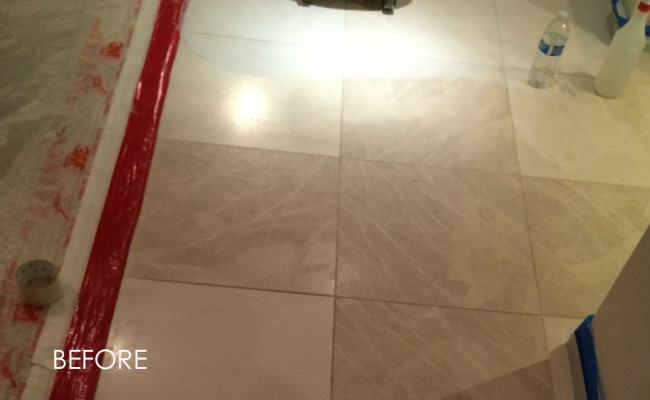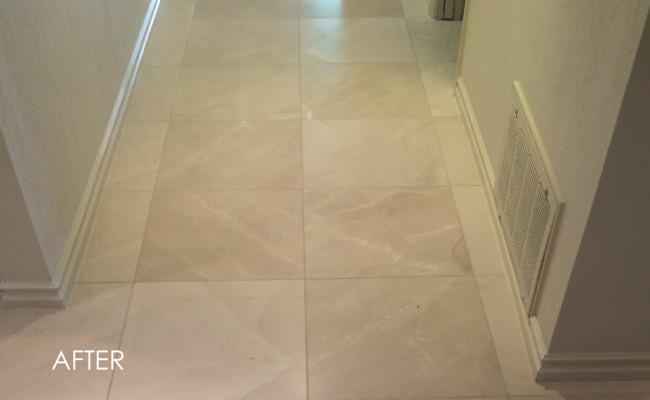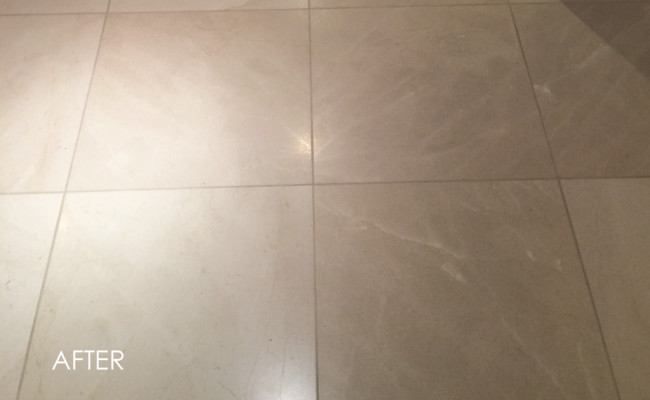 Problem
In Pleasant Hill CA, These honed limestone floor tiles have micro-pits that are common for this type of limestone.  They are tiny holes throughout the stone. The homeowner liked the rustic, weathered look of the stone, but wasn't so happy with the dirt, grime, bacteria, and allergens that had become trapped in these tiny holes.
Notice the poor appearance of the floor in the BEFORE images. No amount of mopping or scrubbing could thoroughly sanitize this floor or flush out the black in the pits.
Solution
First we take pictures of where all the furniture is before we clear the floor and carefully mask baseboards and walls. Then we polished the floor using a polishing compound to maintain the slightly polished, honed finish. This type of limestone is very porous and in time starts to develop a patina that creates an appearance of a shiny finish. To only clean it would erase the shine leaving a flat honed finish of very clean tiles with all the black in the micro-pits removed. "Cleaning only" would bring the stone back to its original finish and would match original extra tiles out of the box. Replacing a few tiles on a patina finish with original extra tiles can be a problem because they won't match the floor anymore. As the stone ages, customers favor the shiny finish over the honed look it used to have at the time they originally picked it for installation.
This is why we always polish the limestone to maintain the shine unless the customer is ok with removing the shine and returning it to its original flat honed finish.
The safest and most effective way to clean limestone with mico-pitting is to use very hot water and high pressure to flush out contaminants. Our state-of-the-art equipment enables us to adjust the pressure and heat in a spray-vac wand with a very powerful vacuum that controls the water flow to protect the base boards and surrounding areas.
As you can see in the AFTER images, this floor is truly clean.
To learn more about limestone cleaning, repair, and restoration, visit our Natural Stone Services Page.
---
For limestone floor cleaning, repair, honing, or polishing services, contact us online or call (925) 625-9625. We service Pleasant Hill, CA, as well as the Alameda and Contra Costa County areas.